I am usually not doing premieres, because it has been always stressful to have a schedule with a blog, but when Leor reached out to us, I could not say no. We worked together on Z Tapes compilations and I always admired her work. The new album is a beautiful experimental lo-fi bedroom pop and I recommend to stop doing whatever you are doing and start the first track. You will not regret it. It is a masterpiece!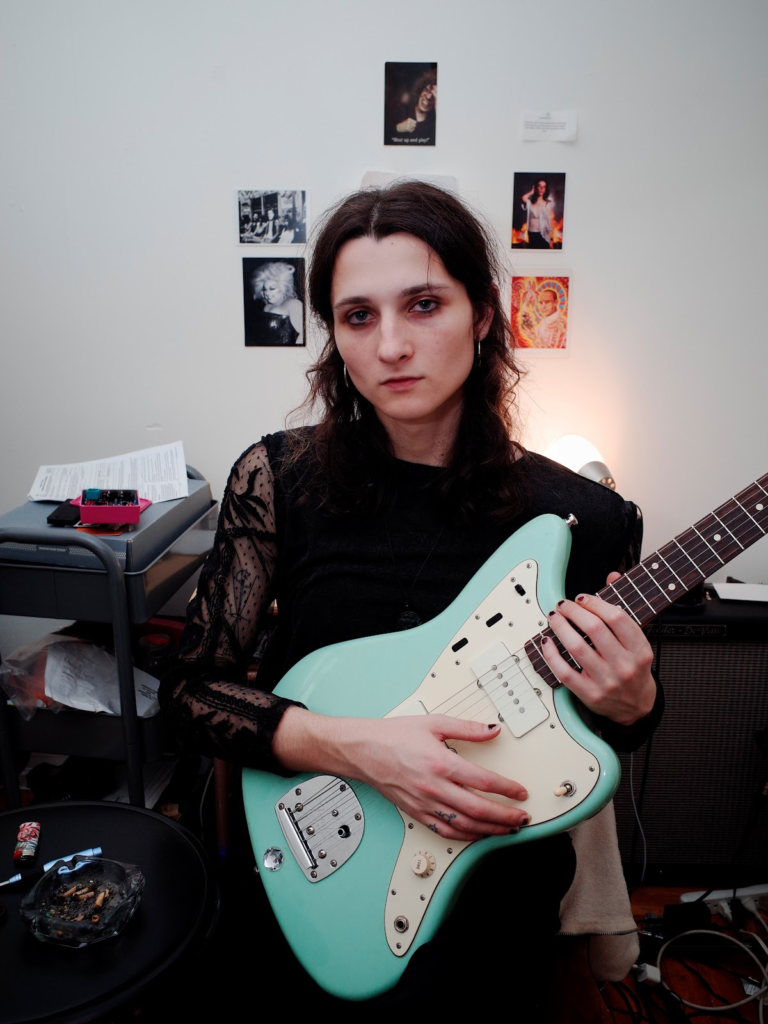 Artist photograph by Jordon Soper
Additionally, when I learned that Sammy Maine wrote a bio for this album, I had to share it in full. It's so well written and it captures the essence of the album beautifully. Read it for yourself:
Leor Miller isn't interested in answers. On her latest full-length album eternal bliss now! the NYC-based songwriter instead turns her lens to the absurdity of simply existing, prodding at the questions that lurk in the periphery. As a trans woman, investigations of who we are, what we are and why we are have always been foundational questions in Miller's experience of the world, but it's on eternal bliss now! that she teams them with the anxiety of fully stepping into adulthood. The album serves as a scattered compass in an ever-changing reality, offering reassurance that there is no one true self, or one true direction.
Miller is a prolific artist, with an extensive back catalog of EPs and albums that span emo-leaning bedroom pop, experimental noise rock, cover songs and acoustic arrangements.  Previous albums, Transgender Superspace (2016), Soft Focus (2017) and Super Useless (2019) garnered acclaim for their honest introspections, and careful blend of the gnarly and the delicate. It's Miller's ability to toe the line between an abundance of sonic landscapes that offers an original and provocative experience, echoing the unknowable outcomes that saturate her lyrical perspective. 
eternal bliss now! was written over the course of 2019–2022, as Miller graduated college, and moved from the Hudson Valley to New York City. As a photographer and visual artist, Miller's foundational belief in art is that there is more to the world than what is immediately obvious. This informs much of the album: feeling disillusioned with music, and unsure of what waited in the wings for her, Miller steered away from what she had previously put out, and leaned into the unexpected. Influenced by the spontaneity of hip-hop, hyper pop and electronica, eternal bliss now! oscillates in the absurdity of actuality, carving out a sonic landscape of glittering percussion, lethargic guitar, mish-mashed electronic swells and underbelly bass.
Spoken word samples also adorn the album: "Become One" features an excerpt from Genesis P-Orridge, Murray Bookchin's lecture Forms of Freedom ripples on "U R U R U R I AM" and an essay Miller wrote in 2021, detailing the malleable-self, is shared on "Grasp Slips". "As soon as I begin to figure out with certainty what it is that I am and or who it is that I am and what it is that I want, I'm bound to find another thing," she explains. "The potential is inexhaustible which is both soothing and also totally anxiety inducing." This see-saw existence led Miller to experiment further with psychedelics, most prominently described on the expansive "Shrieking Matter." It's an earnest moment on the album, where Miller tries to parse the indescribable nature of DMT, and the cacophonous, kaleidoscopic pattern of the universe.
Miller doesn't shy away from the bated-breath apprehension of maturity, but she's careful not to take herself too seriously. The nonsensical nature of the here and now is spotlighted on "We Don't Fuck," as Miller describes giving birth to herself in the back of a truck amidst subaqueous-sounding instrumentation. "Sunrise," written from the perspective of a person ready to brave the world, asks: what if there was a way we could enjoy the apocalypse? "Gasoline and the chemical sky, I inhale deeply and the fumes get me high," she laments in a shrug-like acceptance that if it's going to be this bad, we might as well get buzzed.
Album closer "Become One" frames the conceptual scope of Miller's curiosities, and allows room for optimism and reprieve. "There's something here much bigger than me, there's something here much bigger than you, can't be satisfied till you realize… there's something here much bigger than you," she sings over sustained synths, urging an exhale from the clenched jaws. It points towards the album's artwork, which features a still of a deer hit on a car's dash cam; that even though we might steer in the wrong direction, or destroy something we find beautiful, or experience an immense grief, at least we are moving. At least we are here, reveling in the ridiculous nature of being human. 
I have also talked to Leor and asked her our 3 special questions:
What inspired you to start making music and what keeps you making music?
The movie School of Rock is what really made me beg my parents to let me take guitar lessons when I was 9 years old. I think it made music seem like a really exciting thing to do, that's what I look for in music and art in general… exhilaration or something like that, striving for intense sensation. In terms of what keeps me making music, that's a question that I am often asking myself. This album is the first one I've put out in four years, and that period was punctuated by moments where I wasn't sure what it was that I was trying to do with music or why I did it in the first place. Lots of self-doubt, lots of frustration with the limitations of what is possible to express. I think my drive to make art is related to the limits of what I can express with words. But also because it's so much fun to be immersed in sound in a room with other people. It's fun and exciting but it's also challenging, that's really what it comes down to. 
What was the most challenging thing in your music (artistic) path?
The limits of what is possible to express and also that I can only be in one place at one time. Also self-doubt. 
What would you dream to do if anything was possible?
If anything was possible I'd like to see a deer with two heads. I would fight God. I'd tell all the people who make cakes with weird ingredients that I think that shit looks gross. I'd have big naturals. I would not have fucked up the weed plant I was trying to grow this spring. 
The album will be out on May 19 on Candlepin Records. Buy it on cassettes or get a T-shirt!