This idea had been snoozing in my mind for a while. What if I started writing posts about the concerts (or festivals) I attend so I can keep the memory of it as well as introduce you to new artists in a different way? Just like any idea, in my head, it sounded pretty easy. I wanted to do such a post about the festival Beseda u Bigbítu, but (obviously) I have never done it and after a while, I kinda lost track of how it felt, what I would write, etc. So I am trying to not miss this inner voice right now.
This Friday (November 18) I attended a show at a secret venue called Budova č. 6 (Building no. 6) in Veselí nad Moravou, Czechia, organized by my friends from Billow / Bughead Records with two bands on the bill: TAMARA and Cold Cold Nights.
So far, I have not seen any of them therefore I felt pretty pumped about it. The fact that I had never been to this special venue Budova č. 6 made the whole occasion even more interesting. To be honest, I had a difficult day at work, so my attendance was up in the air, but I was delighted I decided to go and travel an hour and a half by car to Veselí. The weather was really wintry and the actual snowflakes started to fall – the first snow of this new winter season. As I was driving, I was listening to our playlist so the drive went by pretty fast. My only stop was at a gas station for a baguette in order to suppress my hunger at the show. Just before arriving, I called Jakub from Billow / Bughead Records to give me an exact address because nothing was shared publicly. The venue was located in the old iron factory in Veselí and I will not share more details in order to keep it secret. It was not easy to find it, but eventually, I found small doors with a light and knew I was in the right spot.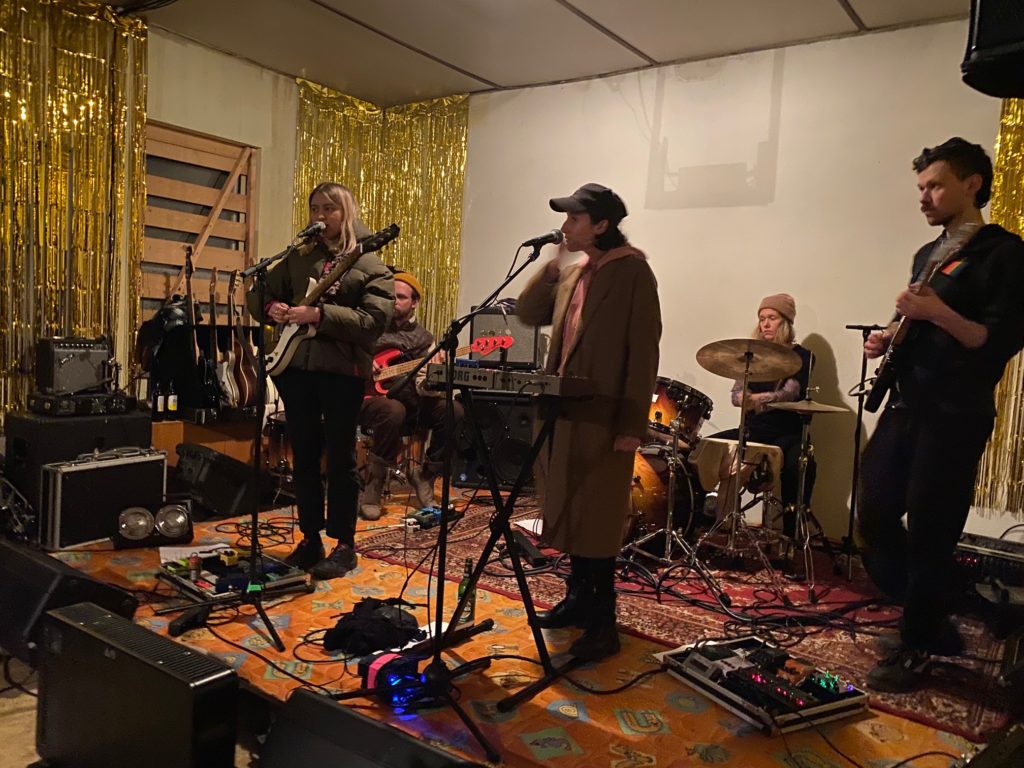 At the time of my arrival, the band TAMARA was already doing soundcheck. It sounded promising. The first person I greeted was Lenka (Jakub's wife), who is one of the Billow / Bughead Records members but also plays under the moniker Ivy Z. A few people were already in, but no one I knew besides Jakub and Lenka. Later on some folks I met at the Beseda U Bigbítu joined us, so finally, some more familiar faces to hang out with. What I realized at this point is that somehow as I am getting older, getting to know new people at shows (or maybe in general) is harder. Despite that, I am pleased that I succeeded to meet some anyway, and it feels like a big achievement and a boost for me. Feels so good…
Before the show started, I managed to pour some non-alcoholic beers and talk to Jakub Jirásek (a different Jakub!) from the band Cold Cold Nights. Even though we have known each other before due to the fact that they used one of my analog photos as the cover of the previous album, we have never met in person, so this was a very special moment for me. Not only that, but I also admire Jakub J.'s music greatly and the reality of him finally giving me a physical copy of the album (featuring my photo) was an unforgettable experience. We had a rich discussion about how doing PR sucks and costs a lot of money, how it is hard to get your music heard, and many other topics I could relate to. How the touring is, how hard it was to make a new album, etc… I miss these kinds of talks. Having these conversations online via Twitter or Discord is nice, but they certainly do not feel the same. That feeling of being alive present and together is (at least for me) irreplaceable. One thing I have always missed while doing this blog or Z Tapes was an offline community of people with whom I could discuss music, share our struggles, and just talk about common things we love. Gladly, this little show gave me a taste of something I miss every day…
Sorry for this long intro, let's get to the show! The first band to play was TAMARA, whose album I shared on the blog in the past, so I had an idea about the sound and vibe. You can find the album here to check it out:
As I already mentioned above, the soundcheck was promising great sound and I was excited. Here is a short reel so you can experience it yourself a bit:
According to Bandcamp, the band should consist of:
vocals: Magdalena, Natálie Rajnišová
guitar: Štěpán Oves, Magdalena
keys: Natálie Rajnišová
bass: Kristýna
drums: Tamara
I did not have a chance to introduce myself to the band, so I am not sure about the accuracy of the names, but my suggestion is that Natálie was playing keys, singing, and playing drums later, Tamara was playing drums and keys later, Magdalena was singing and playing guitar, Štěpán was playing guitar and Jakub J. (from Cold Cold Nights) was playing the bass.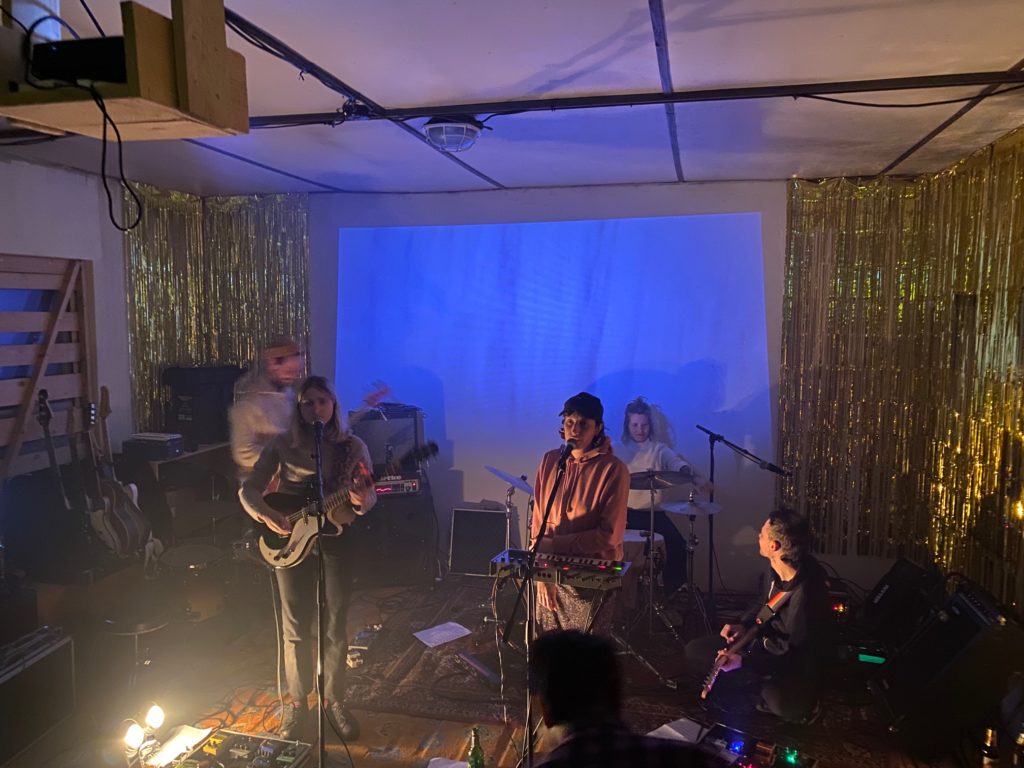 I took some photos, but they are all sh**, but I hope you can at least get the vibe. Will share a few of them.
The TAMARA show was very enjoyable. Dreamy vocals with Czech lyrics (I was so happy they were sticking to Czech) and catchy guitar riffs with the bass line adding the right grooves. It made me absolutely captivated. Immersed in the atmosphere I delighted in the show from the beginning to the end without checking the time even once. I was all in. For the sake of this article, I wish to remember more details, but at some point, I might have stopped realizing that I was at a show and not in a dream. If I was not convinced to like this band by hearing the album, I was definitely convinced by seeing them play songs live. TAMARA is definitely a band to follow! Cannot wait to see them play live once again. It might not bear the same atmosphere, but I will keep looking forward to it. So go and support this great Czech band.
My main reason to go to this show was Cold Cold Nights, but after seeing TAMARA I got a bit fearful that I might be disappointed. Luckily, I was not. CCN made an outstanding, visually pleasing show embracing everything I wished for.
As soon as the band was set up, I knew in my guts the show will be great. Lights, plants, projections. Suddenly it all went dark and became magical. I wish this photo could tell more: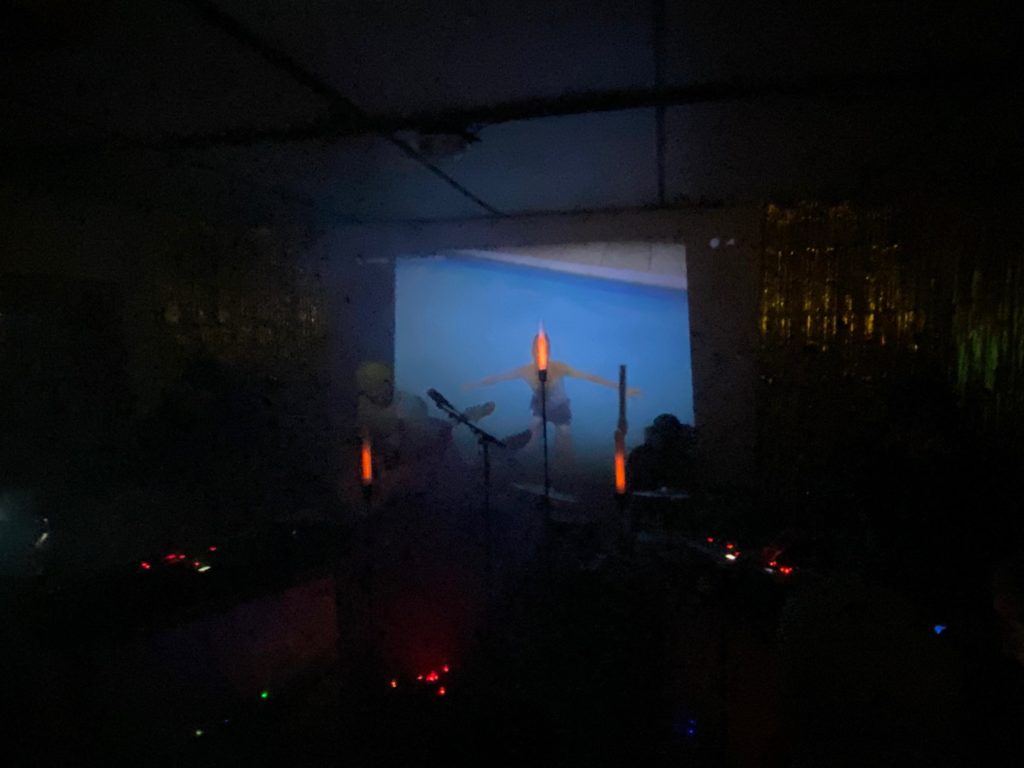 The projections in the background were showing a video of Brainiac, an error turned into a joke (which was later explained by the band in between the songs) made by Czech TV where they mistranslated the word "custard" as "mustard" which made the whole thing very confusing and turned into a hoax. Later on, some tunning videos were played. Either way, I found it great having these videos projected on the wall and creating kind of a special atmosphere. With only the little lights flashing in the dark you could solely focus on the music.
Slow melancholic ballads including strong Jakub Jirásek's vocals, guitar, and keys of Štěpán Oves (he also played in TAMARA), trumpet and keys of Kryštof Knapp, and drums by Daniel Došek.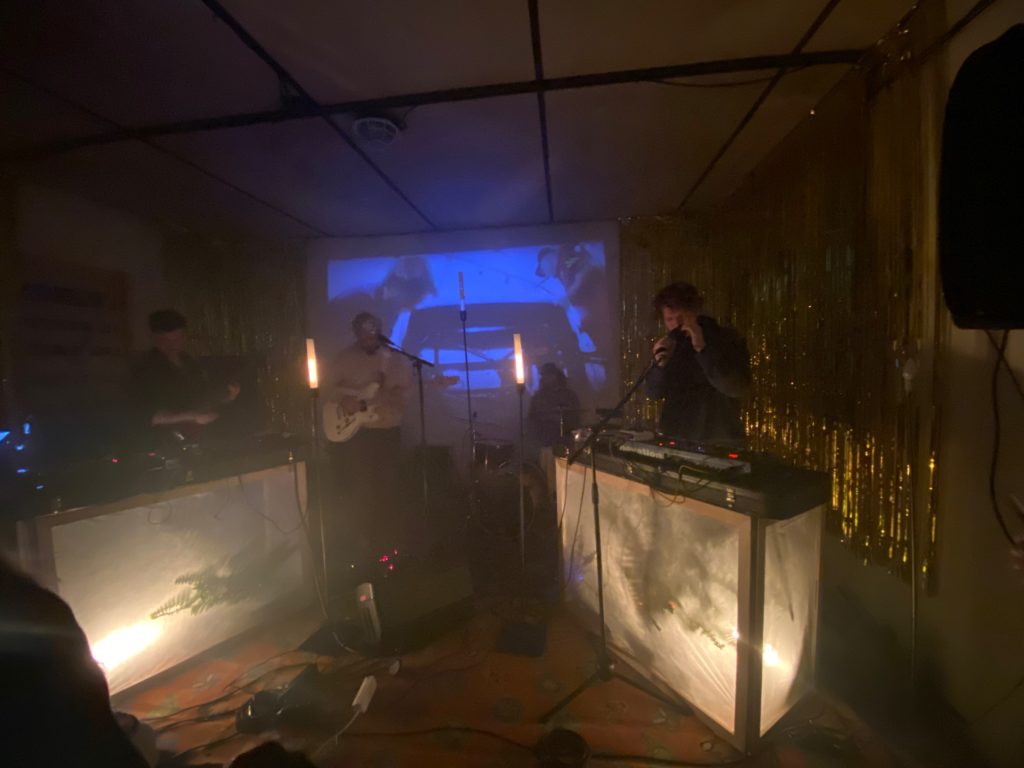 For me, the atmosphere of this particular song was just magical. Another (music) dream. I am happy to admit that the show did not make me feel bored at any point. I made two recordings, here is the first one:
In the end, Lenka (Ivy Z) joined the band to sing a song with them and it looked and sounded like this:
Cold Cold Nights is definitely a band to impress you and leave you wondering why are they not playing big sold-out shows. However, I am glad I was able to see them at this cozy DIY venue with a small crowd fully enjoying the show. The band even added an extra song with which they finished. At this point, I very much felt like it was not enough, which was good. A sign that the show was extraordinary.
Here you can find the newest album by Cold Cold Nights so please enjoy it now:
Next time I am at the show I promised myself to take notes (if that is even possible – we will see) in order to record the atmosphere more profoundly and in much more detail. For now, everything just merged into one big feeling of highly positive experience, even euphoric. I am not sure if my description is comprehensible, but I just wish you were there for the experience yourself.
The venue, Budova č. 6 is that perfect DIY spot I have always dreamt of having nearby to host shows. Music clubs are great, but a DIY space like this has just that special magical vibe that cannot be replicated anywhere else. Hopefully, there is more to look forward to seeing in this place organized by my friends. Despite it is not as close as I wished, having this spot relatively close is making me very happy.
This is my first attempt to capture a live show into words. Please do not hesitate to let me know on Instagram what you think about it and if you enjoyed it or not. I will try to do the next one as soon as I visit another show.
In the meantime support TAMARA and Cold Cold Nights.
Written by Filip Zemčík, edited by Kati Zemčík